With digital transformation being an inevitable movement, partnering with insurtech companies is an effective way for insurance companies in Vietnam go faster and smarter in the digital race.
While Industry 4.0 is becoming a hot topic in recent years, it has stood as a premise for insurance businesses in Vietnam to quickly join the digital transformation race. That race continues with a new trend – smart digital transformation, driven by great development and advances of technology.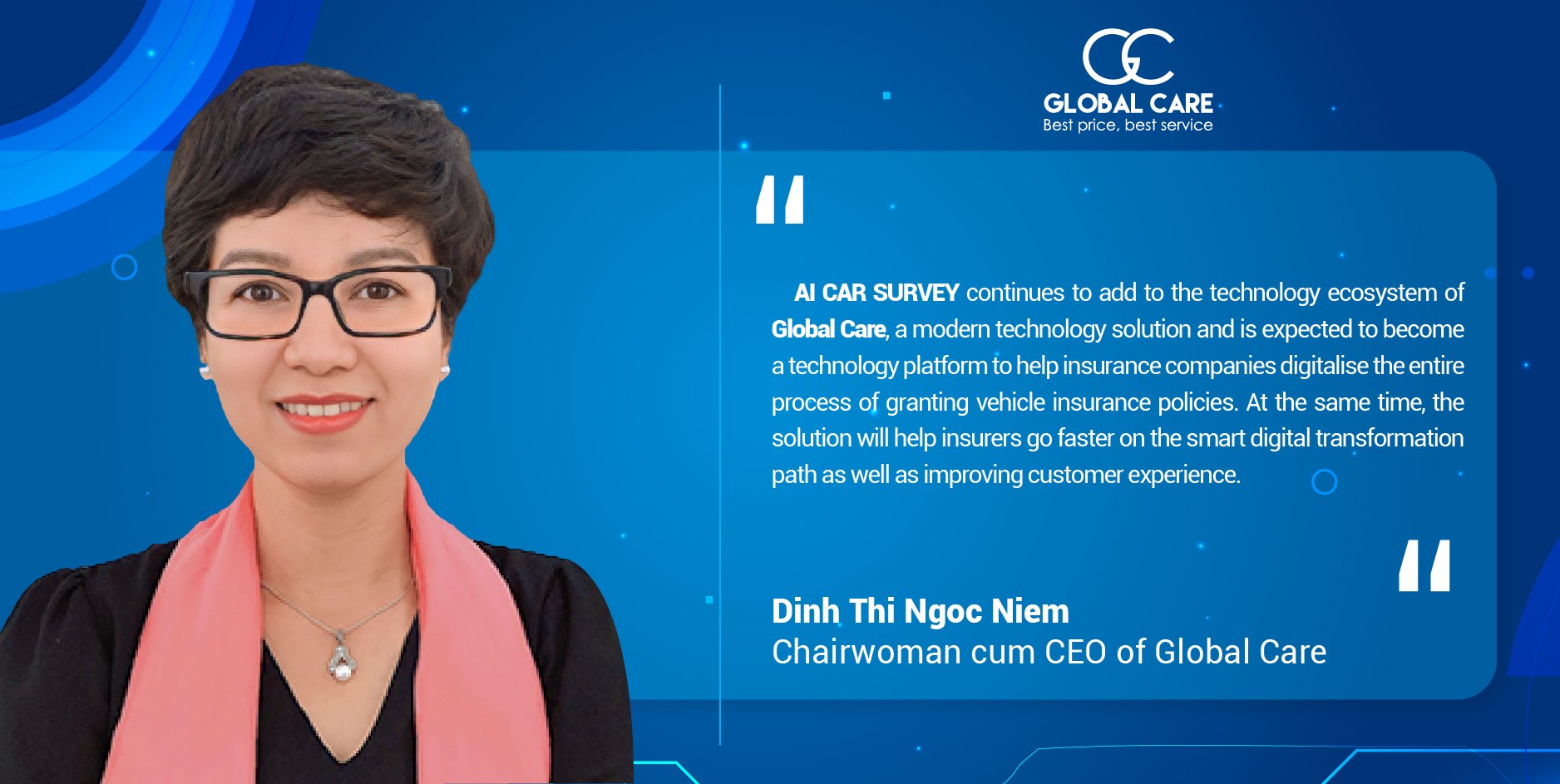 Specifically, the application of AI is no longer a distant prospect perhaps found in a sci-fi movie, but is now becoming popular in everyday life and in the insurance field.
AI technology with deep learning ability, wide artificial neural network and ability to process a large amount of data, can make more accurate predictions than human ability.
However, the development of AI applications among insurance businesses is still facing barriers because of the cumbersome traditional process as well as the need for a team of qualified technology experts in this field.
To promote and quicken the application of AI in the insurance sector, experts said insurance companies should work with intermediate units, including insurtech firms, to fast-track their digital transformation journey. This is considered as an effective shortcut for insurers who want to leapfrog in this digital era.

"There are some tech trends that will change the insurance industry. It will develop codeless code or low-code, shortening the cycle of application development, partnering with insurtech firms, and developing digital insurance," said Hoang Viet Tien, deputy general secretary of the Vietnam Digital Communications Association (VDCA).
In this trend, insurtech companies in Vietnam are heading to develop new technology applications to meet growing demand. Among groups in the local market is Global Care – a pioneer in providing digital transformation platform solutions in the insurance industry in Vietnam.
With strong advantages in technology, Global Care in December launched AI CAR SURVEY – the first smart car inspection AI tech solution in Vietnam.
"With a multi-platform digital tech ecosystem, Global Care is proud to be the digital distribution channel for insurance companies, digitalising insurance products onto technology platforms and bringing insurance products closer to each person," said Dinh Thi Ngoc Niem, chairwoman and CEO of Global Care. "AI CAR SURVEY continues to add to the technology ecosystem of Global Care and is expected to become a platform to help insurance companies digitalise the entire process of granting vehicle insurance policies."
At the same time, the system will help insurers go faster on the smart digital transformation path as well as improving customer experience, Niem added.
Developed with advanced AI and embedded technology, AI CAR SURVEY allows flexible integration into applications, websites, insurance sales platform, and connects via API and software tech kits, building an application for insurers. It is also easy to use in a variety of devices such as smartphones and tablets.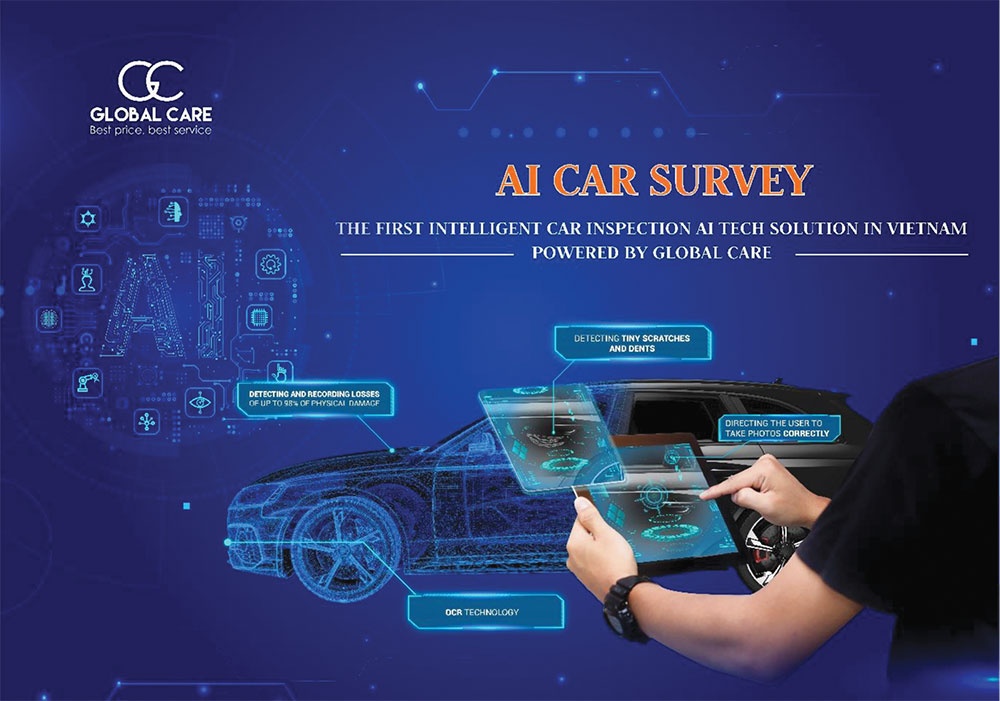 The application of AI CAR SURVEY is expected to bring many outstanding benefits to insurers such as helping reduce human resource costs; quickly taking photos and assessing real-time physical damage; and detecting and recording losses of up to 98 per cent of physical damage.
It stands ready to issue insurance policies anytime, anywhere on mobile devices online. Insurers can also significantly prevent and reduce fraudulent practices during the photography and loss assessment process.
This application also helps insurers take the lead in applying modern technology of international standards. With AI CAR SURVEY, people now can think about full digitalisation of the process of issuing car insurance policies.
AI solves most of the cumbersome process of issuing physical orders. It also helps simplify the photo taking process in the issuance of physical insurance for cars. Notably, photo taking for loss assessment will be carried out easily by anyone with AI guidance, instead of being carried out by examiners in the past.
In terms of core technology, the system has been developed with Deep CNN, a specially developed deep learning convolutional neural network architecture. At the same time, AI technology can be applied for autonomous vehicles in the process of issuing physical insurance policies.
Currently, in the market of car inspections before issuing insurance policies in Vietnam, AI CAR SURVEY is among the few platforms that can direct the user to the correct and sufficient shooting angle and real-time loss assessment, and can detect tiny scratches and dents.
Tien of the VDCA added, "Technologies such as AI CAR SURVEY will be able to become an indispensable tool that should be applied to the motor insurance process to help speed up the smart transformation track."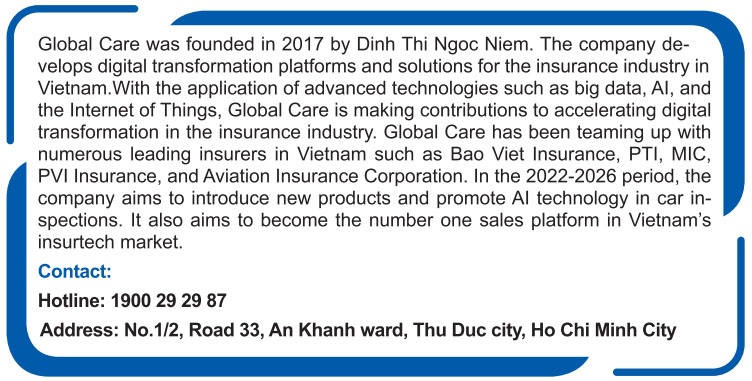 Tags:
AI
,
AI CAR SURVEY
,
Bảo hiểm
,
chuyển đổi số
,
Global Care
,
GSale
,
GSale là gì
,
Insurtech